Company History
It's a uniquely American success story—one that began, like so many others, from the most humble of origins.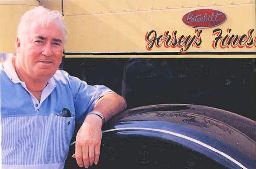 Joe Supor acquired a 1948 Ford truck and started his "Supor Trucking" business hauling oil in the winter and steel in the summer of 1960. Not even this industrious native of Union City, New Jersey, might have imagined that his one-man, one-truck operation would one day evolve and expand into "Jersey's Finest" resource for heavy transportation, moving, rigging, and storage of industrial goods and materials.
One project led to another, and it wasn't long before Joe's work ethic and reputation for quality service allowed him to become the proud owner of a five-truck fleet. By the late 1960s, Joe focused on diversifying his range of services. In 1968, the Supor company became a trucking and rigging business - with crane service soon to follow.
Supor in the '70s
By the 1970s, the demands of a competitive market saw the Supor company meeting the challenge by investing in heavier and more sophisticated trucks and trailers. Joe's well-earned reputation for expertise and excellence helped his company set itself apart from the competition—growing by leaps and bounds on the strength of repeat business from a large base of satisfied customers.
By the end of that decade, Supor had relocated its headquarters to a new site on the banks of the Passaic River. As the trucking operation expanded into rigging, heavy hauling, and warehousing, Supor built a corporate office, a warehouse, and maintenance shops at its new headquarters.
In 1977, the company name was changed to J. Supor & Son Trucking & Rigging Co., Inc., when Joe's son joined the firm. It was around that time when Supor began to gain nationwide recognition as a go-to contractor in the highly specialized field of catastrophic recovery. When disaster struck the Three Mile Island nuclear plant in 1979, Supor's response team delivered the special stainless steel containment tanks from their warehouse in Harrison, New Jersey, to be used in the recovery operation at the Pennsylvania site.
The '80s-'90s Era
During the early 1980s, Supor crews could regularly be found taking on heavy-duty projects at high-visibility sites such as Newark International Airport and Giants Stadium. Another milestone was reached in 1982 when Supor purchased the former Harrison Warehousing Company. This acquisition provided the company with 180,000 square feet of additional warehousing space, resulting in Supor taking an industry-leader role in its ability to transport, store, and redistribute industrial goods.
In the 1990s, the Supor operation would continue to diversify and grow with the acquisition of four new hydraulic cranes, a new line of tractors and lowboys, and more warehouse space that included a 350,000 square foot facility on 25 acres.
The 21st Century & Beyond
By the dawn of the 21st century, Supor's father and son team was overseeing a truly nationwide business—providing expert trucking, crane, rigging, and warehouse services to clients across the continent.
The Supor disaster response and recovery team would continue to play a part in the aftermath of major catastrophic events on the region's roadways, railways, runways, and waterways—including the 2009 "Miracle on the Hudson."
As the Supor tradition of excellence approaches its seventh decade, the company embraces its third generation as a family owned and operated business. "Jersey's Finest" mover of goods continues to advance, offering clients access to the region's largest full-service complement of state-of-the-art equipment and facilities.
Underneath all the expansion and publicity, though, Supor's people haven't lost sight of the personalized, expert customer service offered all those years ago by a hard-working guy named Joe.
Are you researching or planning a project?
Remembering September 11, 2001
We all felt the loss of the 3,021 lives that were tragically cut short on September 11, 2001. This page is dedicated to the memories of those who perished and all those whose lives were forever changed by what happened that day.
To all the family and friends of the victims lost at the World Trade Center, the Pentagon, and aboard American Flights 11 and 77 as well as United Flights 93 and 175, you have the deepest condolences of all of us here at J. Supor & Son.